Skip Navigation
Website Accessibility
Meet Our Team Members & Instructors
We hand picked our instructors because each one is knowledgeable in their area of expertise and also has a strong desire to help you grow in your skills and abilities. So that you can create the best projects you can. You will enjoy the diversity of their personalities and teaching styles.

Megan Sorn

Free Motion Quilting, Long Arm Services, Color Theory, Owner

Megan Sorn After having failed sewing in 7th grade, Megan decided that she was doomed to a life without sewing. When her friend, Karol Fischbach, insisted she attend her free quilting class at church. Karol was a fantastic instructor and Megan has been obsessively quilting ever since. She and her mother own and operate a studio just up the road from IT&M. Megan loves sharing her knowledge with others and uses her art school background to help people create free-motion designs and choose colors/fabrics.
Karol Fischbach
Long arm Usage, T-shirt Quilts, Beginner Ruler work, AccuQuilt techniques

Karol "with a 'K'" Fiscbach She is a fun-loving woman with a contagious joy and zest for life. She quilts, embroiders, and teaches classes. She will encourage you and share tips for whatever project you're working on. Karol particularly loves teaching beginners how to sew and quilt. No matter where you are at in your quilting journey, Karol has some sage insight for you. She originally taught Megan Sorn how to quilt her first table topper.
Beth Krumhans
Sewing, Quilting, Crochet

Beth Krumhansl Beth's mother taught her to sew when she was just 5 years old. She's had to make most of her own clothes throughout her life, due to her petite stature. She worked at Joann Fabrics for many years teaching countless projects in sewing, quilting, knitting, and crocheting. Her favorite part of teaching is seeing the looks in her students' eyes when they have completed something. She's a wiz at teaching kids.
Darcy Nicholson
Crocheting

Darcy Nicholson learned how to crochet through two friends who taught her the basics. She then expanded her knowledge through books and Youtube. She is very creative and makes all sorts of handmade gifts and projects. Blue is her favorite color but she wanders into a teal palette at times. You're welcome to use whatever colors you like. You will enjoy her cheerful and friendly disposition. Disney and bands are two of her favorite things.
Amber



Web, Graphic Art, Social, Newsletters, Ads, Marketing, Photography & Editing, Video & Video Editing, Background Details & Organization, Crocheting, Quilting, Sewing, Cricut, DIY, Design, & "Cool?" Swag for Shenanigans

Amber I work remotely from Utah but a piece of my heart will always live in Ohio, where I grew up. I don't remember a time before creating, tbh. My Mom, an artist, taught me to sew & love art before I was 5. She had me involved in Girl Scouts, 4Hclub, weekly church activities involving crafts, & ALL THE CLASSES. My Dad taught me some photography, marketing, graphic art, & web design. My Grandparents & teachers taught me to love sewing, cooking, crochet, quilting, crafts, thrifty DIY, & the outdoors. Combined, they all taught me skills, encouraged my creativity, & started me on my journey to be the logical, yet creative mutt I am today.
I Studied Home Economics in college.
As a young mother, I taught & managed craft, design, & cooking classes at my local church. I also began exploring and expanding my skills in photography, DIY, crafting, sewing, design, graphic art, and web design. I eventually started a Home & Garden website. I was blessed to be able to work with some amazing mentors/friends & companies such as Evite©, Target©, Lowe's©, Disney© & Amazon©, etc. I created designs, parties, recipes, & posts for them & I was featured & published on some of their websites & in magazines.
When my kids were a little older, I worked at Cricut© as a designer.
My interests have since combined, morphed, & expanded into a love of creating & designing from the ground up. I spend more time on the computer than in front of a sewing machine. I create products, fabric, clothing, decor, printables, graphics, websites, & rooms on my computer and then bring them to life as items, rooms, & products.
I feel very blessed to be able to work with Megan, Linda, & the rest of the Imagine That & More Team.
DiQueina

"Queenie" Whitney



---
DiQueina "Queenie" Whitney ----
Laurie Crippen



Quilter, Accountant

Laurie Crippen With a love of crafts and experience in accounting, Laurie inputs our inventory (aka. first line shopper) and also our bookkeeper. A seasoned class-taker, Laurie will be beginning her teaching journey in 2024. She loves to help make store samples.
Zoë Cornwal



Knitting, Crocheting, Quilting, Needle Felting, Mixed Media Design

Zoë Cornwal From nurse to crafter, Zoë is following her dreams and pursuing her passions in the fiber arts. She creates multimedia pieces ranging from garments to wall hangings and quilts. Her talents include quilting, needle felting, Amigurumi, crocheting and having fun. Zoë enjoys merchandising at IT&M. If you can't find something it is probably because Zoë found a more pleasing place to display it.
Blake Bain



Nerd, Capable

Blake Bain With any successful group, you need the tech nerd and Blake is our nerd here at IT&M. A hobby collector and artistic jack of all trades, Blake learned to make doll clothes with their grandma and tried to get into garment making as a teen, but gave up on sewing after an accident with a sewing machine. Fresh out of college with a degree in Digital Media Production, they wandered into the shop and the rest is history…or the beginning of a new era.
Martha Hamilton



E.P.P. (English Paper Piecing

Martha Hamilton Martha started quilting fifteen years ago and has created some of the most beautiful quilts during this time. Ten years ago, Martha took an English Paper Piecing (EPP) class, and it kick-started her obsession with the process. Martha has created 10 to 12 large EPP projects. Martha finds it to be a very relaxing way to pass the time and keep her hands busy as she watches TV.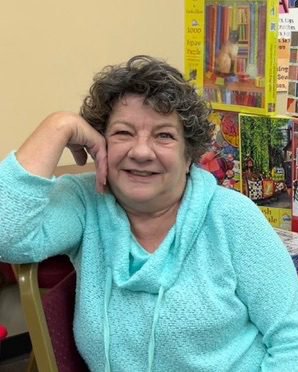 Lily Torok
Hand Sewing

Lily Torok Put down the machines, Lili prefers to stitch by hand as an homage to the women of the olden days who worked tirelessly without all of our fancy gadgets and gizmos. Lili takes her time to put love in every stitch herself.
Jennifer Whitten
Sewing

Jennifer Whitten ---
Donna Smeal
Quilting, Foundation & English Paper Piecing, Official Gadget Girl

Donna Smeal ---